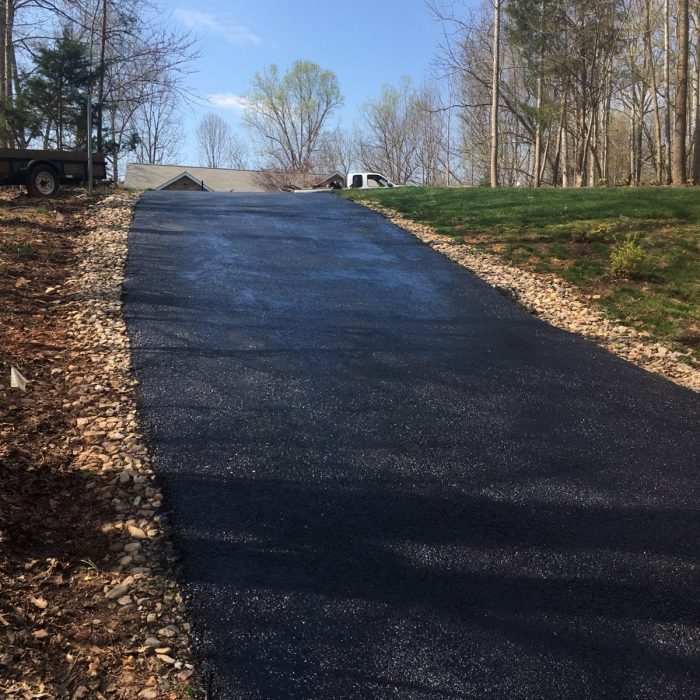 Asphalt Paving (Residential & Commercial):
The pavement of your driveway or parking lot is one of the first thing people see. Having a driveway or parking lot paved with asphalt not only looks beautiful but is a strong and durable solution. A poorly finished driveway or parking lot can bring down your home or business's curb appeal, and improperly installed asphalt can lead to expensive problems down the line. Asphalt pricing has many variables depending on size, depth, and the amount of base preparation needed for the job. C & A and Sons Paving is happy to conduct an on-site evaluation and present you with a written estimate for your paving job, free of charge.
Repair Patching Services (Residential & Commercial):
Patch work is used when only a section of the asphalt driveway or parking lot needs to be replaced. The damaged asphalt is removed via saw cut, graded, compacted, and replaced with new asphalt.
Seal Coating & Crack Filling (Residential & Commercial):
Asphalt seal coating services is a quick and inexpensive way to protect your driveway or parking lot and enhance the appearance of your property. Additionally, asphalt seal coating restores that rich black appearance to your driveway or parking lot. This is usually the first part of your property a visitor or potential customer will see. Asphalt is also softened and broken up by gasoline, lube oil, grease, road salts, and antifreeze drips from cars. Sealer protects blacktop with a coating that is impervious to these harmful elements. Unprotected driveways or parking lots remain porous, dry out, become rough, and lose their life rapidly. With proper care, your new driveway or parking lot will give you many years of service.
To help protect your asphalt and prevent costly driveway or parking lot repairs, we recommend seal coating your asphalt surface every year. In addition to protecting your driveway or parking lot from water damage, cracks, and oil or gas stains, seal coating keeps your paved driveway or parking lot looking shiny and new.
Cracks are the deadliest problem asphalt surfaces will develop. Cracks ¼ inch wide or wider must be sealed to prevent moisture from penetrating the asphalt and to protect and extend the life cycle of the asphalt surface. There are two types of crack sealants available: cold pour crack sealants and hot pour crack sealants. C & A and Sons Paving's hot pour is a hot rubberized material and is the most cost-effective solutions. Cracks that are less than ¼ inch wide do not need to be crack filled, however, seal coating these small cracks should be considered because it will help protect the asphalt surface from future oxidizing and weathering.
Whether C & A and Sons Paving installed your driveway or parking lot or someone else did, be sure to contact C & A and Sons Paving to provide top-notch seal coating & crack filling for your asphalt surfaces.
Line Striping (Commercial):
Our work does not finish once the asphalt is down. We offer striping services for parking lots of all sizes. We also offer line striping for sport courts. Our work is always neat, clean, and precise.
When is striping needed?
Repainting asphalt and concrete surfaces are a process done typically once every one or two years to keep your parking lots safe for drivers.
Benefits of parking lot striping
A good parking lot is the first thing a customer will see and can create a sense of safety while leaving a great first impression.
How do I know when my parking lot needs to be repainted?
Depending on the amount of traffic your parking lot receives, you may need a fresh coat of paint every couple of years, or a whole new design for compliance. Your parking lot may need to be re-striped if:
The lines in your parking lot have faded or discolored
Asphalt is getting seal coated
Asphalt is being cracked filled
You need a better flow of traffic for drivers in the parking lot
You need to comply with Americans With Disabilities guidelines
Your striping was improperly placed, causing confusing in your parking lot for the right lines
If you're not sure whether your asphalt or concrete surface needs to be striped, don't hesitate to contact us today.
We only use quality oil-based paints to minimize damage from sun, water, and cars. Using high-quality asphalt striping machines, we make sure everything is perfectly straight and accurate.
Sport Courts & Play Areas:
C & A and Sons Paving builds premier sports courts that are designed to last. Your sport court or backyard court will be built with the highest-quality products, in a way that will deliver many years of family fun, memories, and enjoyment.
We can start from scratch when building a sports courts or backyard court or we can repair an already existing one.
Most cracks and puddles that interfere with the enjoyment of your sport surface can be fixed.
We will give you a free complete evaluation of the condition of your court and a recommendation on how to correct any problems.
Millings or Tar & Chip Services:
Millings is also known as recycled asphalt product (RAP) One advantages of using milling is the bitumen binder that is mixed with the material. Because of the binder the material produces less dust and over time the surface hardens.
Tar & chip is a paving process in which we combine crushed stone and an emulsified liquid asphalt to make a natural looking durable driving surface. The gravel-like base is spread evenly on the area to be paved, and a hot liquid asphalt is poured over to act as an adhesive and sealant.
Hauling:
Our hauling services include construction debris removal and dirt/gravel delivery.