Top 4 Mistakes When Hiring a Roofing Company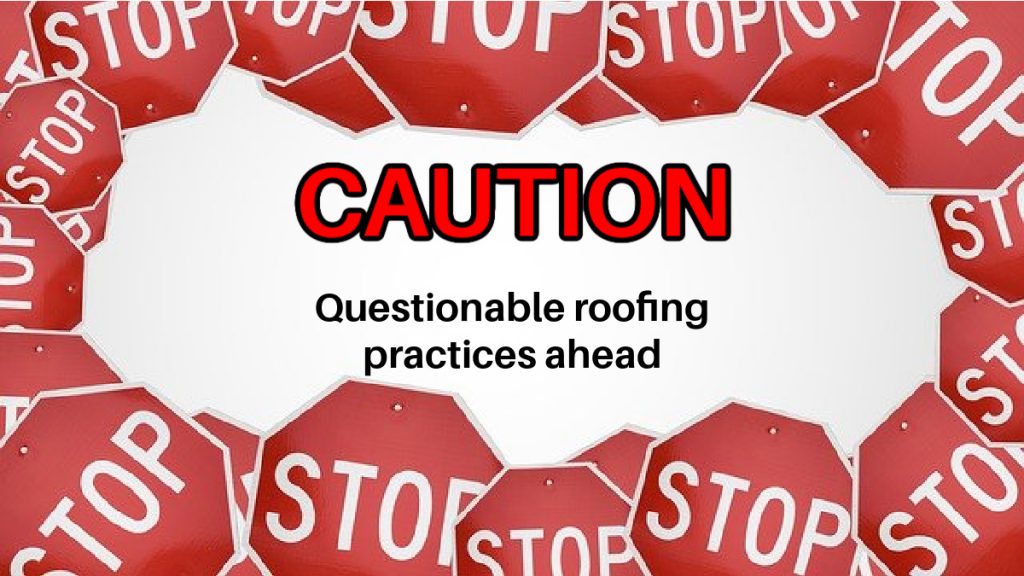 If you're looking for a roofing company in the Winston-Salem area, here are 4 major errors to avoid.
1) Hiring an Unlicensed and Uninsured Roofing Company
Not all roofing companies are created equal, and a great way to differentiate between the pros and the Joes (sorry Joe), is their willingness to become licensed and insured. Even though it's not too difficult to become a licensed roofer in North Carolina (the exam cost is $60, and it is administered open-book), you should still search for a licensed professional to work on your roof. After all, if a roofer is unwilling to take the time to get a very attainable licensure, where else is he or she cutting corners? Take the safe route, and find someone who is licensed!
While a roofer's insurance plan doesn't cover you (the customer), it's still a good indication of a company that takes its work seriously. Your best bet is to find a completely legitimate contractor that isn't taking shortcuts in any way.
(Smithrock Roofing is both licensed and insured. Get a free roofing estimate by clicking here)
2) Taking the Cheapest Offer
It's no secret that roofing services are expensive. Materials and labor add up quickly, and rightfully so. However, don't get too zealous about saving big bucks on your roof. A surprisingly low quote can be as good as a red flag. Here are a couple of reasons why:
> Cheap Labor – If a company owner is paying his or her workers less than average, it's almost always because the quality of work is less than average. Experienced, skilled laborers charge more, and because bad roofing work can cost the homeowner money in the long run, it's best to get the job done right the first time.
> Inexperienced Company – A hallmark of roofers that are short on experience is a super-low quote. There's often two reasons for this. First, they haven't learned to recognize all the relevant factors in quoting roof work. This leads to underestimating both materials and labor. Secondly, they are so desperate for work that they're willing to drastically underbid more established contractors. While there's nothing inherently wrong with being inexperienced (we all have to start somewhere), a more established company with more seasoned roofers is a better bet for doing high-quality work.
(Smithrock Roofing has over 40 years of combined experience)
3) NOT Getting the Contract in Writing
This one should be a no-brainer, but it's more common than you'd think. There's several reasons you should get the contract in writing, but the two most obvious are clarity of cost and agreement of work performed.
Both the contractor and the customer should be crystal clear on what work is being done and what the cost is going to total. Getting these laid out in writing protects both parties from an undesirable outcome.
4) NOT Researching Reputation
There's too many review platforms online to get stuck with a poorly rated roofer. Between Google, Facebook, Yelp, and many more, getting an idea of what past customers have said about a company is pretty easy.
One reason to take a long look at online reviews is the potential for having to pay twice. Not only will previous water damage often persist after a bad roof job, but contractors with poor work often have poor warranties. You're very likely to have to hire another roofing contractor to come out and fix the "craftsmanship" of a low-standard company. Check out this review on the Smithrock Roofing Facebook page:
A huge thanks to Jason for recognizing quality work, but this is also a warning for those searching for a roofing company. Double and triple check your prospective contractor's ratings before signing a contract. The key to getting a good deal on a roof is not necessarily paying cheap, but paying once.
(Click here to see Smithrock Roofing's testimonial page)
Closing Considerations
Smithrock Roofing takes pride in providing unmatched customer service to roofing customers in Winston-Salem, NC, and the surrounding areas. With over 40 years of combined experience, we have the knowledge and skills to get your job done right at a fair cost.
We provide free estimates, customer financing, and a long list of 5-star reviews! If you are interested in obtaining an estimate, or if you simply have some questions for our team, please click on the button below to access our contact page. We look forward to hearing from you.